Update: Instructions are now available here!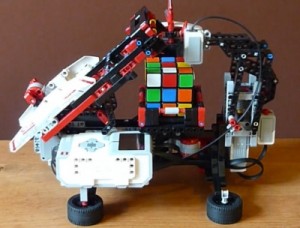 David Gilday, designer of the NXT Mindcuber bonus model is back with an all new EV3 cube solving robot: Mindcub3r. Here's what David says about his design, and be sure to check out the video of the robot in action below:
MindCub3r is a new LEGO® Rubik's Cube® solver that can be built from a single LEGO® MINDSTORMS® EV3 set Item: 31313.
MindCub3r is more efficient than previous versions of MindCuber that were created with MINDSTORMS NXT. It is currently able to solve the Rubik's Cube puzzle in an average of about 24 moves in 1 min 50 secs.
This efficiency is enabled by the higher performance ARM9 processor and significantly greater 64MB RAM in the EV3 than the previous NXT. A new software algorithm was developed especially for the robot with a four-phase lookup-table driven algorithm requiring approximately 5MB RAM.
David says that he'll make building and programming instructions available later this year, so stay tuned!