LEGO-Roboter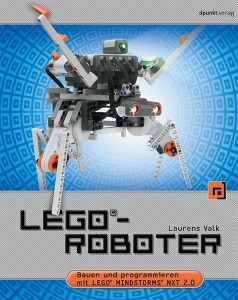 Author: Laurens Valk
Language: German
ISBN: 978-3898647472
Pages: 315
Publication: June 2011
LEGO-Roboter is the German translation of The LEGO MINDSTORMS NXT 2.0 Discovery Book, published in June 2011. It is the leading NXT beginner's book in Germany and other German speaking countries. Consult the Discovery book page for additional information (the contents are equivalent) or visit the book's companion website.

Book description (German)
LEGO-Roboter bietet Ihnen einen umfassenden, illustrierten Einstieg in die Welt von LEGO MINDSTORMS NXT 2.0.
Die klar verständlichen Anleitungen von Laurens Valk machen Sie Schritt für Schritt mit Ihrem NXT 2.0-Baukasten und der NXT-G-Software vertraut. Sie lernen, auch komplizierte Roboter zu bauen, die sich fortbewegen, Sensoren abfragen und fortgeschrittene Programmiertechniken wie Datenleitungen und Variablen nutzen.
Fünfzig Beispielprogramme und mehr als 85 Programmier- und Bauaufgaben werden Ihre Fantasie beflügeln, während Sie anhand von detaillierten Bauanweisungen acht verschiedene innovative Roboter entwickeln:
Explorer, ein Fahrroboter
Discovery, ein Roboter, der mittels Sensoren navigiert und Linien folgen kann
Shot-Roller, ein Verteidigungsroboter, der in alle Richtungen feuern kann
Krabbler, ein Roboter auf sechs Beinen
SmartBot, ein Roboter, mit dem Sie fortgeschrittene Programmiertechniken erlernen
Grabscher, ein autonomer Roboterarm, der Gegenstände greift, hochhebt und bewegt ganz automatisch
LEGO-Stein-Sortierer, ein Roboter, der LEGO-Steine nach Größe und Farbe ordnen kann
KKK, der kompakte Kaminkletterer
Das Buch ist der ideale Einstieg für alle, die mit dem Programmieren und Bauen mit dem LEGO MINDSTORMS NXT 2.0-Baukasten beginnen. Es liefert Ihnen das Know-how, individuelle Roboter zu entwickeln und zu programmieren und so Ihre eigene Welt von Erfindungen zu erschaffen.