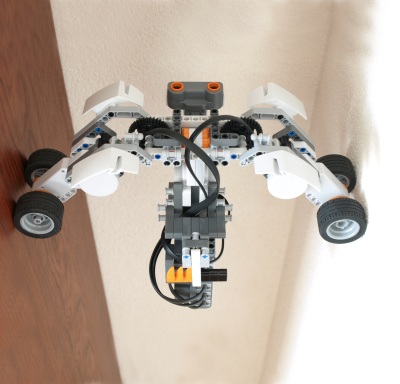 Most NXT contraptions that move with wheels go forwards, backwards, left, or right. This robot can do none of this, but instead it can go up and down. This robot is featured in Chapter 15 of the Discovery Book.

Other chimney climbers in this series:
Every time I created a new climber, I tried to tackle a new design challenge, to make the robots faster, stronger, more stable and smarter. Follow the links below, and read the pages in order to learn about my findings in the design process.

Video
I never made a video of this robot, but I found this video on Youtube made by one of the readers. Start at 12 seconds in the video.
Building and Programming this Robot
Instructions for building and programming this robot are included in The LEGO MINDSTORMS NXT 2.0 Discovery Book. It can be built with just the pieces in the NXT 2.0 kit.