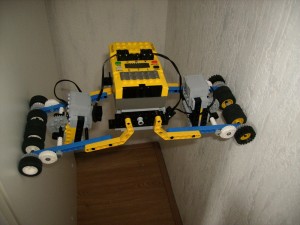 This robot turned out to be the first in a series of climbing robots. The primary function is simple: climb straight up between two vertical walls. Pretty boring, but amusing enough to get 600,000 Youtube views.
I created it as part of a "community Contest" in the legacy RCX MINDSTORMS forums. The goal was to build a robot that could climb at least 1 foot, without initially touching the walls. The chance of winning increased if the robot could go faster or carry a load to the top. My robot got third in this contest (see winning submissions here), but the idea has driven me to creating much faster climbers. This one was designed in August 2006.
Other chimney climbers in this series:
Every time I created a new climber, I tried to tackle a new design challenge, to make the robots faster, stronger, more stable and smarter. Follow the links below, and read the pages in order to learn about my findings in the design process.