Remember the MinuteBot Baseplate Kickstarter project? It was funded successfully, so the base plates have been turned into a real product. I've received a few plates last week as part of the pledge I made to the project.
I'm quite satisfied with the quality of the product. They're strong and hold LEGO pieces well. Obviously, you shouldn't expect LEGO quality, or they would have had to raise $100,000 to produce the plastic mould – not $8,000. The color is somewhere in between Normal white, NXT white and Light Grey.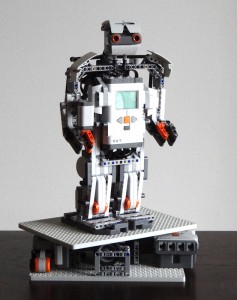 I didn't have any specific ideas in mind when I made the pledge, but when I received the plates, I immediately turned them into the sandwich shown above. This model should come in handy for display at events. Now the robots just turn around without falling off the table. Purists may say they could have done this without the base plate. That's OK. For everyone else, here's a few more pictures.

UPDATE: You can buy the base plate for $30 here.