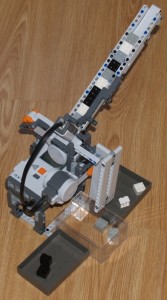 Brick sorters are one of my favorite Mindstorms projects. Simply because they're fun, and also because they're more "useful" than most LEGO vehicles that just drive around. This design was made in early 2007, and I shared the building instructions later that year. This was the first time I shared building instructions with the community, and as it turned out, not the last time!
Requirements:
One NXT 1.0 set (8527)
Several Black, Grey and White 2×2 LEGO Bricks. You may also try other colors (see below).
Building:
Follow the building instruction steps by clicking the picture below.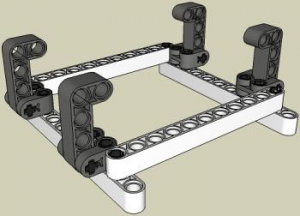 Programming:
Click to download the NXT-G Program for the brick sorter. If you examine the program, you'll see that the colors are determined using Light Intensity measurements from the Light Sensor. Change the threshold values in the Switch Block to make the program work for you.
NXT 2.0 Users: While this project was made with the NXT 1.0, it is easily modified to work with the NXT 2.0 set and the NXT 2.0 color sensor. If you do this, send me your program and tips to adjust the brick sorter — I may post it to this page for other readers to see!
Video: