After many months of hard work, I'm excited to announce that The LEGO MINDSTORMS EV3 Discovery Book will soon be released. I've been working on this project in silence since 2012 using the very first EV3 prototypes, and I've been building, programming, and writing ever since. The fine folks at No Starch Press have been working with me for the past few months to turn the manuscript into a fantastic book. Over the course of the next few weeks, I'll be posting more information and excerpts so you can see what you'll find in the book.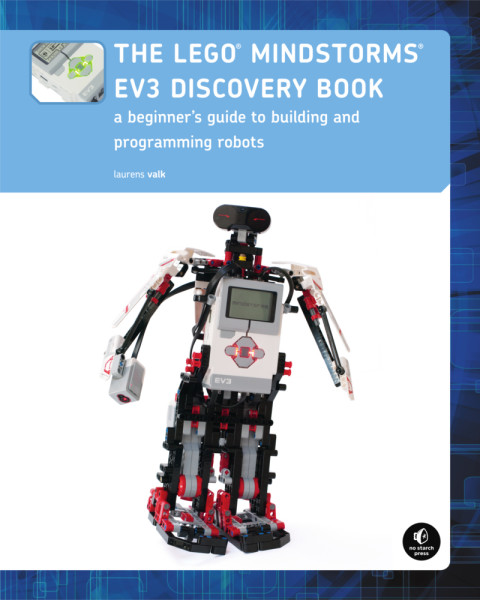 This new edition is much more extensive and detailed than the NXT 2.0 Discovery Book released in 2010. My favorite new topics include complete coverage of how to use each of the sensors effectively, how to create My Blocks with inputs and outputs, and how to use LEGO Technic elements and gears. (After studying mechanical engineering for 3 years, I just couldn't get away not covering gearing principles in this book.) Perhaps the most noticeable change is that this edition is printed in full color. Not only does this make the building instructions easier to follow than before, but it also helps getting many of the programming concepts across clearly.
The book should be available in fine US book stores and online retailers such as Amazon from June. You can also get a copy of the book with a complementary ebook directly from the publisher (Use coupon code DISCOVER to get 30% discount). Several translations are on the way as well. Stay tuned for more news on those.
From the back cover:
—
LEGO MINDSTORMS has changed the way we think about robotics by making it possible for anyone to build real, working robots. The latest MINDSTORMS set, EV3, is more powerful than ever, and The LEGO MINDSTORMS EV3 Discovery Book is the complete, beginner-friendly guide you need to get started.
Begin with the basics as you build and program a simple robot to experiment with motors, sensors, and EV3 programming. Then you'll move on to a series of increasingly sophisticated robots that will show you how to work with advanced programming techniques like data wires, variables, and custom-made programming blocks. You'll also learn essential building techniques like how to use beams, gears, and connector blocks effectively in your own designs.
Master the possibilities of the EV3 set as you build and program:
The EXPLOR3R, a wheeled vehicle that uses sensors to navigate around a room and follow lines
The FORMULA EV3 RACE CAR, a streamlined remote-controlled race car
ANTY, a six-legged walking creature that adapts its behavior to its surroundings
SK3TCHBOT, a robot that lets you play games on the EV3 screen
The SNATCH3R, a robotic arm that can autonomously find, grab, lift, and move the infrared beacon
LAVA R3X, a humanoid robot that walks and talks
More than 150 building and programming challenges throughout encourage you to think creatively and apply what you've learned to invent your own robots. With The LEGO MINDSTORMS EV3 Discovery Book as your guide, you'll be building your own out-of-this-world creations in no time!
Requirements: One LEGO MINDSTORMS EV3 set (LEGO SET #31313)
—
Can't wait for the book? Are you curious about the robots? What kind of samples and excerpts would you like to see?  Let me know in the comments below.