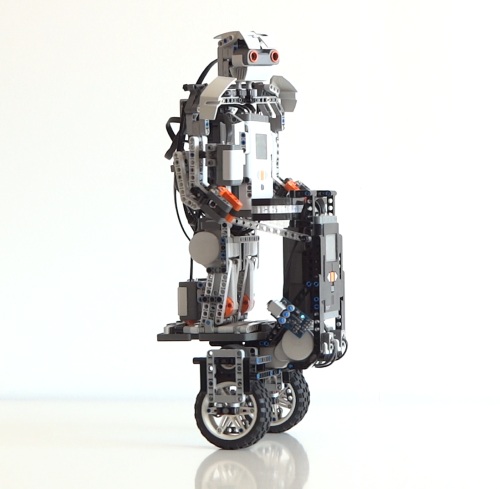 This project is based on my universal balancing robot code. These small balancing robots are fun, but I wanted to make something that more closely resembles a real Segway.
Alpha Rex gives sends 'high-level' commands like steering and speed to the Segway via Bluetooth. The Segway program turns these signals into movement. In the video, it is Alpha Rex who detects the wall. Then it tells the Segway to turn around and move in another direction.
The robot is shown here with the Dexter Industries dIMU, but it works with any of the other NXT Gyroscopic sensors as well. The NXT motors drive two small rubber tires, which in turn drive the larger wheels. The distance between the axles of these wheels varies by the amount of force applied to the wheels. This way there is enough traction between the small and large wheels, even under high loads.