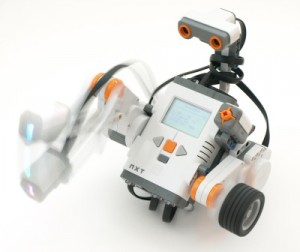 SmartBot is a small development platform that essentially consists of just an NXT with several motors and sensors. But because of its variety of connected sensors and motors (and because of the NXT screen orientation), it's a handy little platform to experiment with new programming techniques.
SmartBot is presented in Chapter 10 of the Discovery Book, and used onwards to Chapter 12. In Chapter 10, the essentials of Data Wires are introduced. For instance, one program will turn a motor at a speed based on the reading of the Ultrasonic Sensors. Data Blocks including Math Blocks are first used in Chapter 11, and variables follow in Chapter 12.
At the end of Chapter 12, the reader creates a program for a whack-a-mole style game that you can play on the NXT.
Building and Programming this Robot
Instructions for building and programming this robot are included in The LEGO MINDSTORMS NXT 2.0 Discovery Book.