In this post I would like to share the reports of the RiSE workshops held in Ghana, 2011. RiSE stands for Robotics Inspired Science Education. The following excerpt from the report describes briefly what RiSE is about.
The mission of Ghana Robotics Academy Foundation (GRAF) is to design accessible and innovative programs that will excite and motivate young Ghanaians to pursue careers in science, technology and engineering, build self-confidence, knowledge and life skills. RiSE introduces students to the excitement and experience of solving real world problems by applying, science, technology, engineering and math skills, all using LEGO Mindstorms.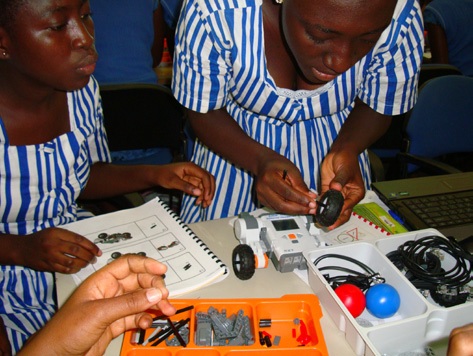 The inaugural RiSE 2011 workshops were held at Tamale, Accra and Takoradi, it was a celebration of Science, Technology and Teamwork. RiSE 2011 workshop had close to 400 students from all 10 regions of the country. The diversity of the participants was remarkable and each student brought different experiences, interest, and ambitions. In addition, each student demonstrated talents they didn't know they had.
You can download the report with many pictures here. The results of a survey held amongst participants of the workshops is here. Both files were posted here with permission.
All of the robotic activities appear to be built around Damien Kee's DomaBot. These two pictures from the report show how students assemble and program the Domabot. Pictures of several robot competitions are also included in the report.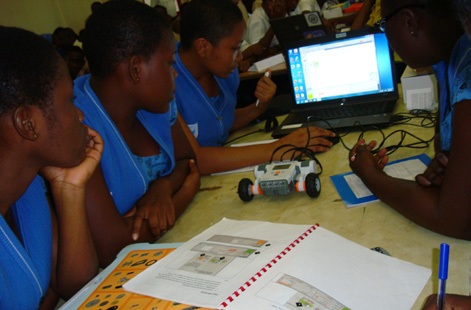 The RiSE program is looking for partners to support future workshops and other events. It's already partnering with LEGO Education, NASA JPL and Carnegie Mellon University. For contact details, please consult the full report.