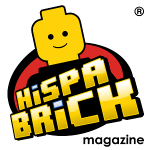 The thirteenth issue of HispaBrick Magazine is out! HispaBrick (In English and Spanish) is a fan-made LEGO magazine with articles on all things LEGO. It frequently features MINDSTORMS and TECHNIC related topics and it's no different this time.
You'll find coverage of several MINDSTORMS events, including the Mobile World Congress (So many Snatcher's!), and an interview with the designer of FLL tables. You'll also find and article about building sturdy structures with Technic and pneumatic sequencing.
View the magazine below (free), or download the english PDF (free) here or here.