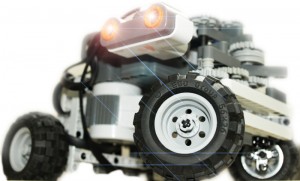 These days, we can't imagine life without cars; in fact, we use them every day and never give them a second thought. Just the same, learning to drive requires a lot of instruction and practice, which might make you wish for a car that parks itself. Some luxury cars today actually have special sensors that enable them to do this.
The Self-Parking Car is such a vehicle. Using an Ultrasonic Sensor, it measures the distances between the car and other objects and also measures to make sure the parking space is wide enough.
In chapter 8 of LEGO MINDSTORMS NXT One-Kit Wonders, you'll learn how to build this robotic car that drives and steers like a real front-wheel drive car. Then you'll learn how to program it to park itself in response to your voice (or a clap of your hands).
Building and programming instructions are in the book, but you can also download the program here.
Video: