This is the basic Segway platform that you will use in each of the Segway tutorials. The robot is often referred to as 'Anyway', because you can build this robot with 'Any' version of Mindstorms NXT. Apart from a (any) NXT set, you will need a Gyroscopic Sensor for balance measurement: Either the HiTechnic Gyroscope, the Dexter Industries dIMU, or the Microinfinity Cruizcore. Consult your programming tutorial to see which sensor you should use. If you know, proceed to the building instructions below.
Anyway with a HiTechnic Gyro Sensor:
Anyway with a Dexter Industries dIMU:
Anyway with a Microinfinity Cruizcore: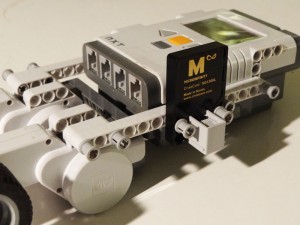 Programming the Segway
For various tutorials on programming the Segway that you just built, use one of the following links.